1. Deals do happen during a pandemic
At the height of the pandemic, we closed on the sale of CalTex to Spectrum Automotive, a portfolio company of Cornell Capital, in May. Other notable deals include the sales of Triumph Premium Finance and a lead gen data analytics company. M&A activity in the middle market remains strong, and valuations are high. ​​Strategic and financial buyers are aggressively seeking well-run companies ​contemplating an exit or raising capital.
2. Jeff and Gina have voices made for podcasting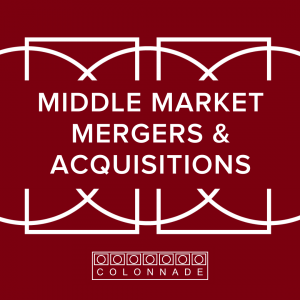 Being grounded due to the pandemic, we had time to launch a podcast discussing the technical aspects of and tactics used in middle market deals. It is filled with nerdy M&A banter and brightened by guests with deep expertise including: Will Turner at Steptoe & Johnson, Scott Wolf at Willis Towers Watson, Joe Kaczmarek at RSM, and Rob Humble at IAS.
3. Doubling the cap gains rate is a possibility in 2021
This has been keeping us up at night, so we shared our thoughts, prompting many of our clients to accelerate the timing of their strategic plans.
4. The lead gen industry is $26 billion and 24 M&A deals of size happened this year
Lead gen and data analytics companies have fared well during the pandemic, and valuations are high.
5. The auto inspection and warranty claims management sector is ripe for M&A activity
We have been surprised that we have not seen more M&A activity, especially roll-ups, in this sector. Home warranty is another industry in which we expect considerable M&A activity given the similar market dynamics this sector shares with the F&I products industry, in which several high-profile deals closed this year.
6. Timing matters. Start now, because you don't know what will happen next
We were all thrown curveballs in 2020. It is best to plan ahead if you are considering selling your business or raising capital. Contact Colonnade; we can assist you in positioning your company for a successful transaction.
In a year filled with challenges, we are grateful for all of our friends and family. From all of us at Colonnade Advisors, we wish you happiness and health in 2021.