M&A activity in North America continues to decline amid the ongoing global pandemic. Completed transactions declined by 27% in Q2 compared to this time last year and a 24% decline from a lackluster Q1. This is largely due to buyers and sellers remaining timid as companies struggle to present accurate forecasts.
Despite the lack of deal flow, multiples on completed transactions have increased by 6% in 2020. Median EV/EBITDA multiples are 10.5x year-to-date compared to 9.9x in 2019.
Private equity is taking advantage of the opportunity to deploy dry powder and build on existing platforms. The proportion of add-ons to overall transactions has seen an increase so far.
Leading PE firms, specifically those focused on growth equity, have transitioned seamlessly from fundraising in-person to digitally. Franciso Partners, Clearlake, and Insight Partners make up 26% of the capital raised in 2020, with a combined $26.3 billion raised in the second quarter.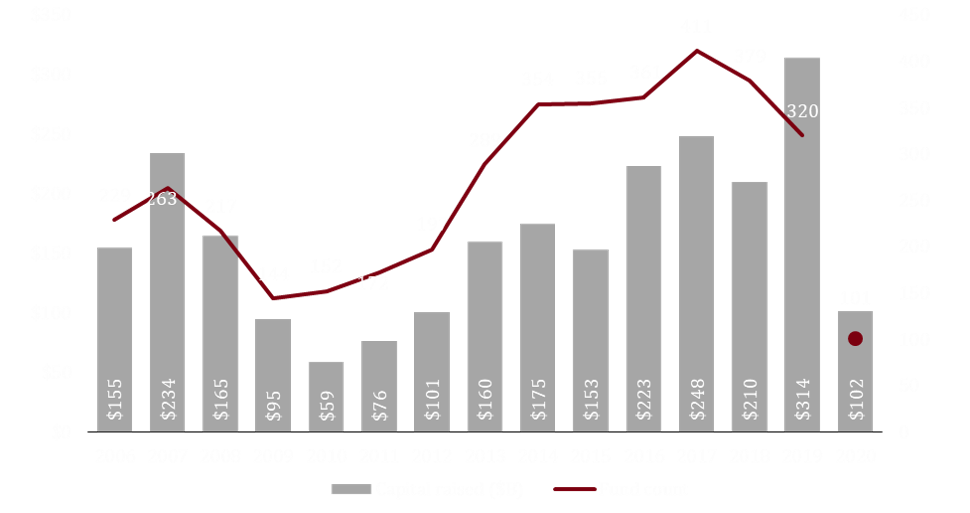 The global pandemic has persisted longer than expected. Buyers and sellers will have to find ways to work around the logistical implications of the virus if they expect to continue to grow and innovate through the crisis.
Source: Pitchbook
If you would like to discuss further M&A market with Colonnade, contact:
Tiffany Hu
Director of Business Development
312.870.6204